RSDM Celebrates 2015 Award Winners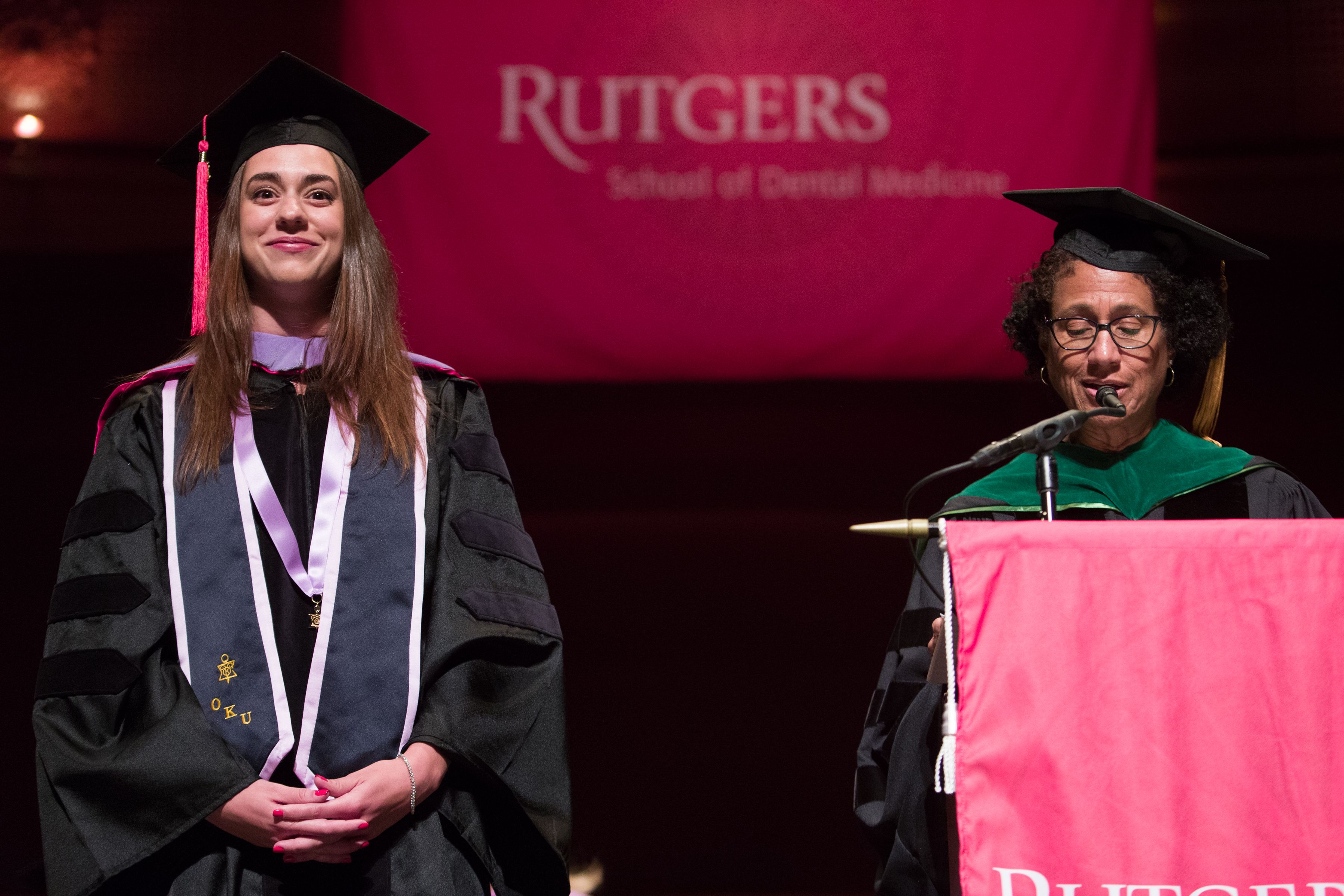 Samantha Bogle receives her award from Dr. Denise Rodgers, RBHS vice-chancellor for interprofessional education.
The Class of 2015's top honors were bestowed at convocation, including the Bergen Medal, awarded to a student for outstanding academic achievement, and presented this year to Samantha Bogle, an artist who will continue at RSDM as an orthodontics resident.  She received her award from Rutgers Biomedical and Health Sciences Vice-Chancellor of Interprofessional Education Dr. Dense Rodgers.
The New Jersey Health Foundation Excellence in Teaching and Research Awards were presented to professor Dr. Abhinav P. Wadkar, a preclinical course director and clinical instructor, and Dr. Junad Khan, an assistant professor of Diagnostic Sciences and director of basic research at RSDM's Center for Orofacial Pain. Both awards were presented by alumnus Dr. Anthony Volpe.
Here are speech excerpts about the honorees below:
Samantha Bogle, Bergen Medal:  "Samantha is eloquent about her passion for a career that will allow her to combine an artist's perspective with the curiosity and discipline of a scientist. In her words, 'The lips are the frame of my painting, and with each visit, I have shaped not only the smiles that my patients present to the world, but also their self-esteem.'''
Dr. Abhinav Wadkar (left) and Dr. Anthony Volpe
Abhinav P. Wadkar, Excellence in Teaching, described by third-year-student Peter Paradiso: "He is a great teacher, not just for his abilities and knowledge but because he never quits on us. He never stops helping. He pushed us to be better students just as much as we push him to be a better educator. And as with many great educators, he would also say that he learns more from us than we do from him."
Dr. Junad Khan (left) and Dr. Anthony Volpe
Junad Khan, Excellence in Research:  "He possess the qualities of all great researchers: he's honest, patient, self-critical and always willing to start over when the research demands. He's less concerned with being right than getting it right."