Balbo Day Returns to In-Person
Started by and named after Michael Balbo, Balbo Research Day is an opportunity for students to share their research with the Rutgers School of Dental Medicine (RSDM) community. Over the years, this annual event grew to be a full-day occasion with poster presentations, vendor stands, and lectures. On March 29, the 2023 Balbo Day took place at the Oral Health Pavilion.
Pre- and post-doctoral students presented a total of 38 posters. Zhi Chao Feng of the Class of 2023 won first place among pre-doctoral candidates with his poster, "Matrix Metalloproteasinse-13 (MMP-13) Regulates Key Pathways in Inflamed Dental Pulp Cells." He was mentored by assistant professor of oral biology Emi Shimizu.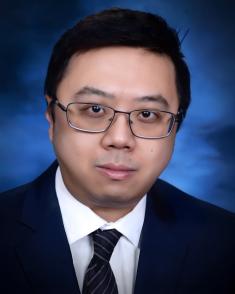 Feng came to RSDM with a strong research background. Growing up in Canada, he obtained his bachelor's and PhD degrees in pharmacology and toxicology. "I just didn't want to abandon my research interest during my dental school," he said, who began working with Shimizu the summer after his second year. "We are promoting evidence-based dentistry. … If we don't have dentists contributing to research, then basically we aren't able to push dentistry forward. That's also why I want to continue research in dental school."
He has been studying a gene called MMP-13, which plays a critical role in tooth development and maturation, and investigating how the absence of MMP-13 impacts dental hard tissue and inflammatory response. "We suggest that MMP-13 could be a central switch that can regulate how dental pulp cells functions," he said. Dental pulp, he explained, is a huge research topic including studies on spinal cord injury, skin repair, and nerve repair.
After graduation, he will start a general practice residency at Harvard University. Then, he will apply to endodontics programs.
Hemamalini Chandrashekhar, an oral and maxillofacial surgeon now a resident in RSDM's Orofacial Pain program, came first among the post-graduate presenters. Her work, "High Resolution Ultrasound for Diagnosis of Giant Cell Arthritis," was mentored by Gary Heir, professor and director of the Center for Temporomandibular Disorders and Orofacial Pain.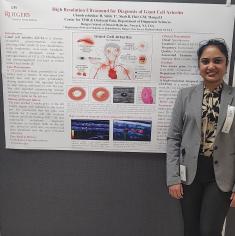 She presented the case of a 72-year-old patient who was in pain for two years. "Chronic pain is difficult to diagnose because it is not simple, straightforward," she said. The patient was formerly diagnosed with temporomandibular joint disorder—a pain in the joints—but she wasn't getting better. She couldn't finish her meal in one go, experienced blurry vision, and had a strange feeling in her tongue. "Her symptoms sounded an alarm bell," she said. They suspected giant cell arteritis, which can be diagnosed by a biopsy, or ultrasound—the faster and non-invasive alternative. "It is a very good screening tool for patients who come with these complaints," she said. Once diagnosed, they started the treatment, and the patient began feeling better.
Being able to help patients was why Chandrashekhar got interested in orofacial pain, a specialty that doesn't exist in her home country, India. There, she would get patients with orofacial pain but wouldn't know how to treat them. "Orofacial pain was something that sparked my interest so much that I decided to do a residency in it," she said. "I want to learn more and start my practice incorporating elements of both oral and maxillofacial surgery and orofacial pain." 
Predoctoral Winners

     
 First Place: Zhi Chao Feng, "Matrix Metalloproteasinse-13 (MMP-13) Regulates Key Pathways in Inflamed Dental Pulp Cells," mentored by assistant professor of oral biology Emi Shimizu
Second Place: Kayleigh Denner, "Longitudinal Characterization of Tooth‐specific Caries in HIV Exposed and Infected Children in Nigeria," mentored by assistant professor of oral biology Modupe Coker
Second Place: Athena Fu, "Effect of Build Angle and Layer Height on the Dentition Accuracy of 3D‐Printed Dental Models," mentored by assistant professor of orthodontics Wei Huang
Third Place: Iqra Ahmed, "Three-Dimensional Analysis of the Tooth Size Accuracy of 3D Printed Models," mentored by assistant professor of orthodontics Wei Huang
Postgraduate Winners                     
First Place: Hemamalini Chandrashekhar, "High Resolution Ultrasound for Diagnosis of Giant Cell Arteritis," mentored by professor of diagnostic sciences Gary Heir
Second Place: Srishti Kumar, "Oral Allergy Syndrome: Tale of a Mistaken Allergen," mentored by professor of diagnostic sciences Mahnaz Fatahzadeh
Third Place: John Gattuso, "Does Soft Tissue Management of Pontic Site at time of Surgery for Implants or Provisionals Have a Better Esthetic Results?," mentored by associate professor of restorative dentistry Eileen Hoskin