Remembering Balbo: The Eponym for Balbo Day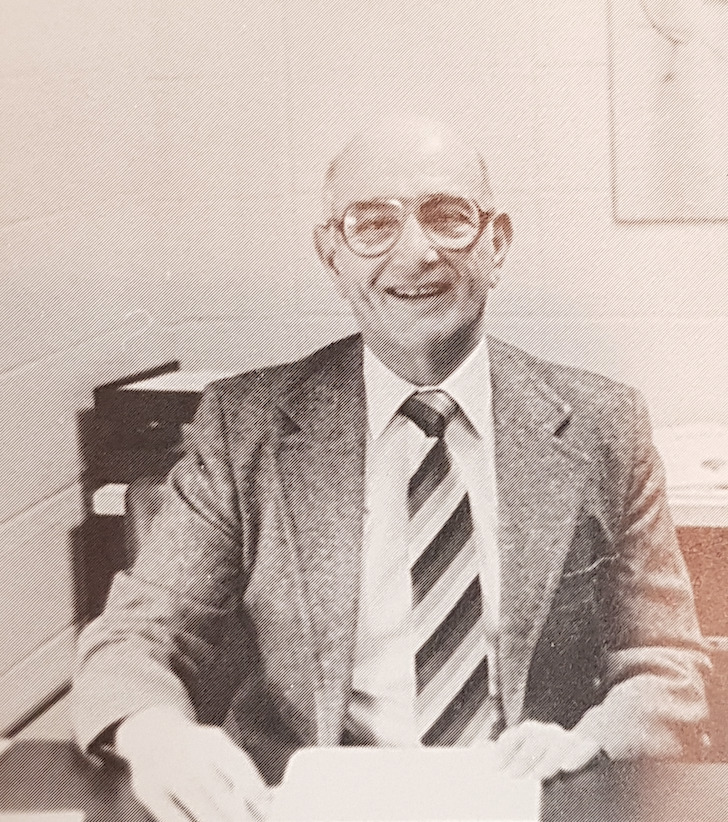 Michael P. Balbo
At Rutgers School of Dental Medicine, the name Michael Balbo is all too familiar. Every year, the school hosts the signature event, Dr. Michael P. Balbo Research Day, where pre and postdoctoral candidates present their research projects to the community.
But who was Balbo? That's a much less known story.
Michael Palladino Balbo was born in 1929 in Astoria, Queens. He received his DDS from Georgetown University Dental School in 1955. He briefly served in the military as an Army captain during the Korean War. Following that, he opened a dental practice in Astoria that he ran for almost two decades.
He joined RSDM, then called the College of Medicine and Dentistry of New Jersey, as an illustrator for operative manuals used in clinical dental services. He also started teaching in the Operative Dentistry Department.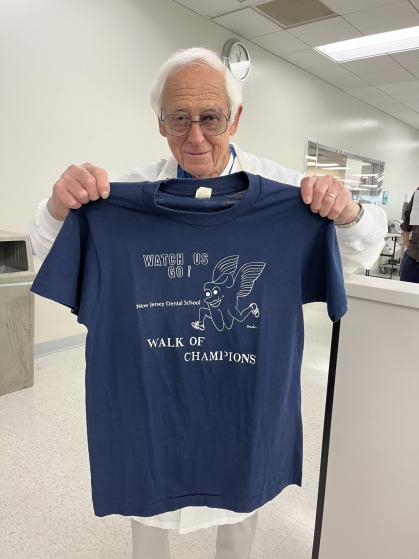 Clinical professor in restorative dentistry Daniel Chertoff '61 was in operative dentistry with Balbo. "It was a thrill to work with him. It really was," said Chertoff. Balbo was a polite, soft-spoken gentleman. "He was the nicest guy you'd talk to. Very artistic, A wonderful dentist. He was a whole package." Balbo did illustrations, oil paintings, sculptures, and more.
Balbo later became the course director for operative dentistry­—one of the hardest courses in the curriculum. He began to take on administrative roles too. He started as director of academic resources and raised all the way to special assistant to the dean for student support services.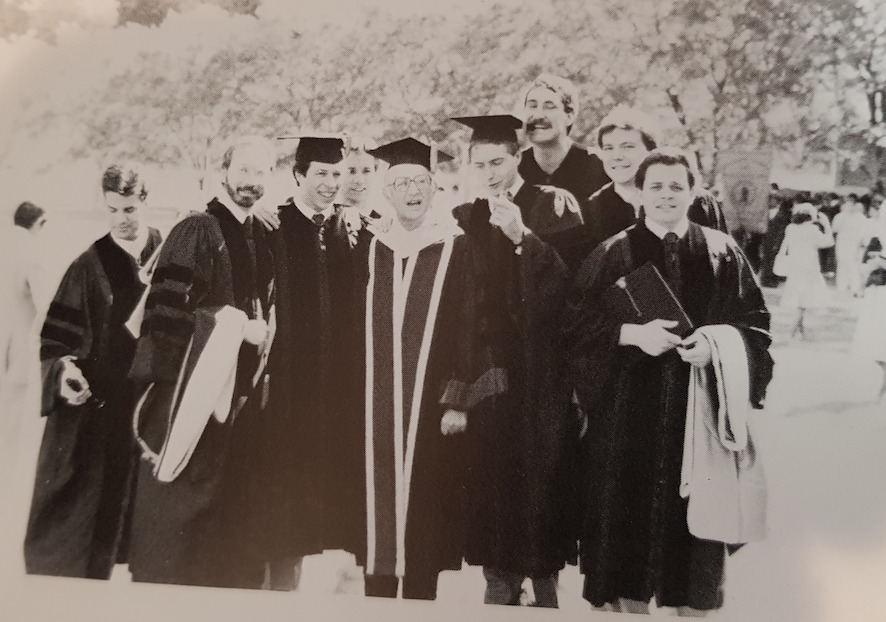 Balbo (center) with the members of PSI Omega, including Peter DeSciscio '85 (far right). Balbo was a moderator for the fraternity.
One of his students, professor of restorative dentistry Peter DeSciscio '85, still recalls how supportive Balbo was to his students. "He was always someone who would listen, calm you down, and make you feel good that there was light at the end of the tunnel," he said. Balbo was a regular at student events as well. "He was very approachable," DeSciscio said. "I just feel it was easier getting through school with him."
Another student of his was now-vice dean Kim Fenesy '86. Balbo recruited Fenesy, a fellow medical illustrator, as a first year. "He and I bonded in that way," said Fenesy. "He was the best artist I've seen when it came to doing illustrations on that level; they were fantastic," she said.
Besides illustrations, Balbo and Fenesy worked on a multitude of projects. They put together the clinical dentistry course, which introduced first- and second-year students to the clinic. She helped Balbo with the summer research program that partnered students with researchers.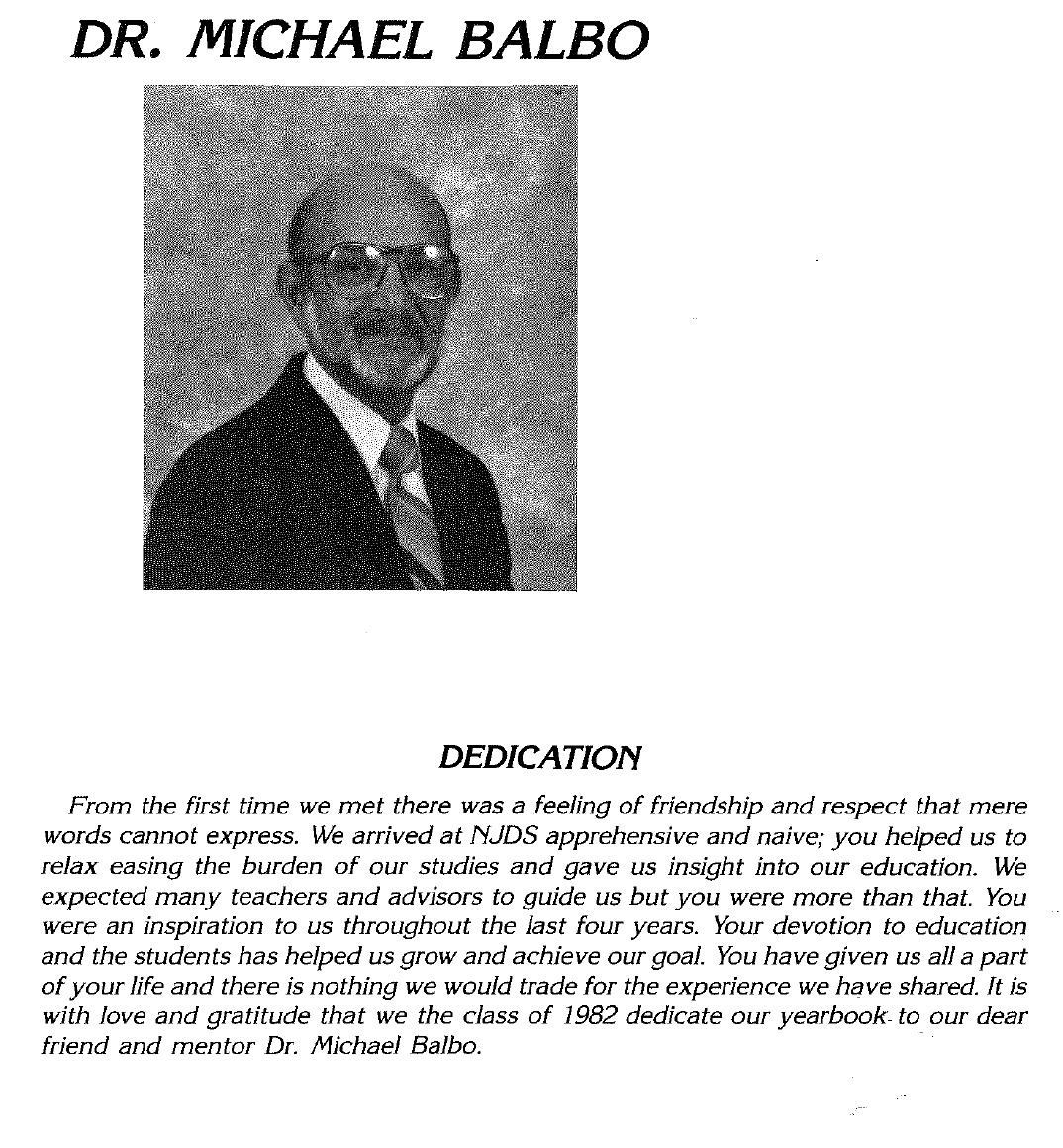 1982 Yearbook Dedication
"He really was forward-thinking," said Fenesy. He wanted students to understand research as well as clinical practice and didactics. He wanted to create a platform for students to present their research and created the Dental Expo, today's Balbo Day. In the 90s, Balbo and Fenesy launched the Foresight Program for second-year students to mentor the incoming class.
As Balbo's health declined, Fenesy slowly started to take on his responsibilities. Balbo succumbed to cancer on August 16, 1996, in Monmouth Beach, NJ, where he had lived for 30 years. He was 67. The expo was renamed after him in his memory.
While he was alive, his commitment to the school, his students, and dentistry didn't go unnoticed. The American Dental Association recognized him for the Dental Expo. Internally, he received the Exceptional Merit Award, Excellence in Teaching Award, and three RSDM classes dedicated their yearbooks to Balbo.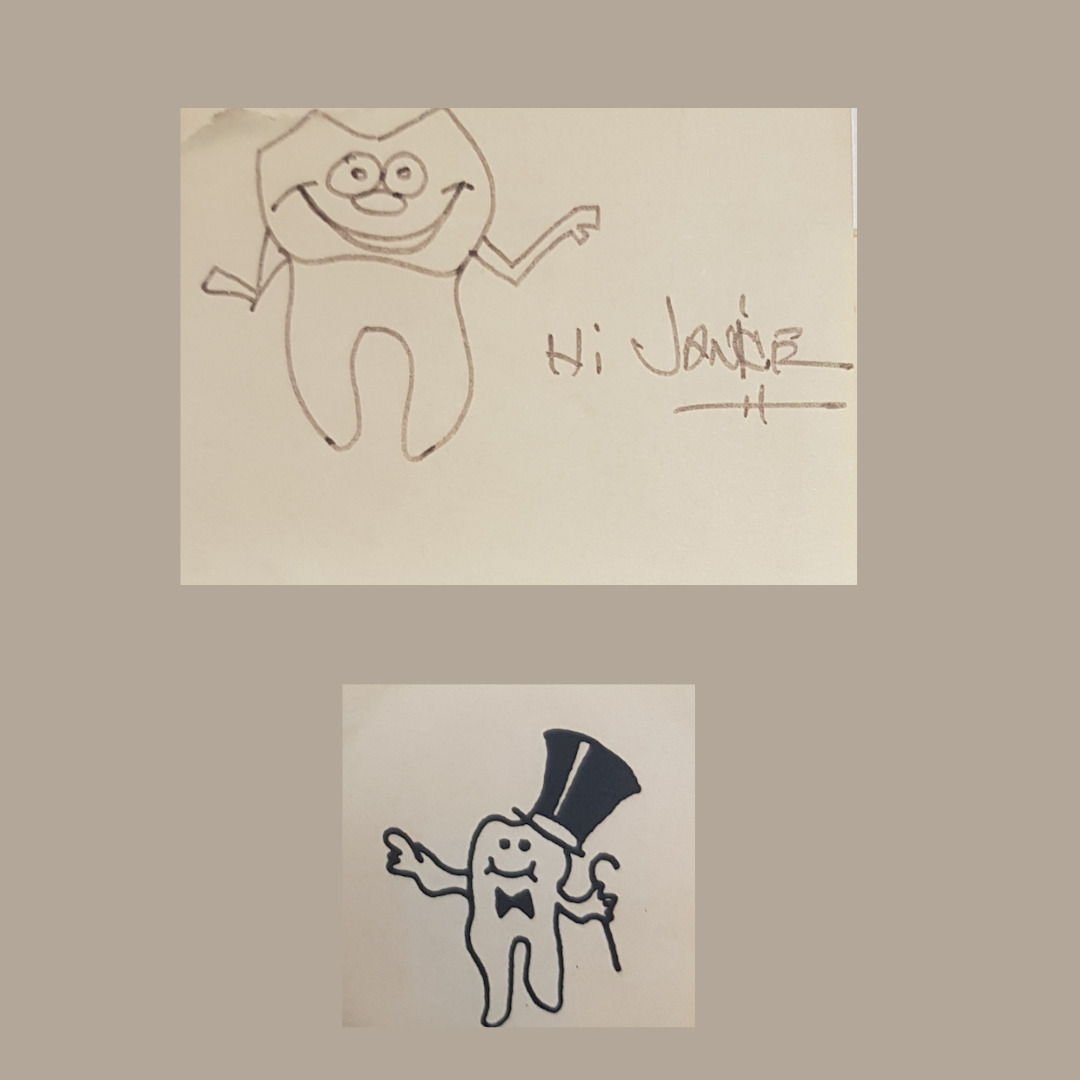 Balbo would stick happy tooth drawings on the director of continuing dental education Janice Gibbs-Reed's office door if she wasn't there. Here are two of those post-its.
Professor of Periodontics Howard Drew '82 was in one of those classes. He was first a student of Balbo's and then a fellow faculty member. "He was a great teacher, but more importantly, he was a great human being. You couldn't help but love and respect him," said Drew.
In the clinic, Balbo would make quick sketches to explain a concept or give feedback to students. Drew remembers that Balbo saw students as colleagues from day one and treated them with respect. "He was preaching about diversity and inclusion 40 years ago, when nobody heard about it, nobody referred to it. But that's the type of individual he was," said Drew. "He, to me, epitomized what a dental faculty person should be. I hope I've incorporated some of the things he did into the way I teach. But he was the best."
RSDM will honor this exceptional man once again on March 29 for Balbo Day.