Student Spotlight: Charris Allen Steps Forward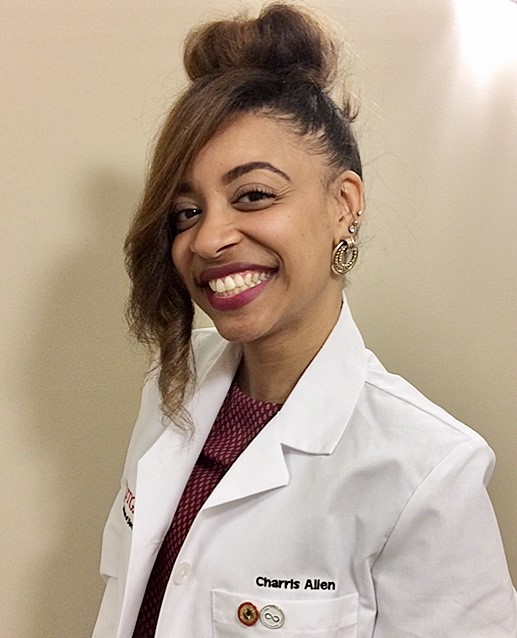 Charris Allen
Charris Allen was a high school vo-tech student training to be a dental lab technician when she decided to become a dentist instead.
She was working in a dentist's office as a dental assistant when the owner of the practice asked about her career goals.
"I told him I wanted to be a lab tech and he said, 'why don't you be the boss?' And I thought, oh, I never really pictured myself in that position. But then I decided, let me see what that's about,'' remembers Allen.
Her epiphany eventually led her to RSDM. Now, as a fourth-year student – and the first person in her family to attend grad school – Allen's perseverance and ambition have been rewarded. She is the winner of The EJI Excellence in Medicine award, presented to New Jersey students in health professions who have demonstrated excellence in scholarship, research, leadership and civic engagement.
For Allen, the honor is validation that exchanging a more behind-the-scenes role for a career as a dentist was her destiny. "I have this inkling that I was brought out from the background for a reason. We all have a story that's supposed to be an inspiration and a testimony and I think people who hear my story might say, 'There are greater things for me than settling for what I think I'm supposed to be and letting others define me,''' she says.
After graduation, Allen plans to do a General Practice Residency at ChristianaCare Hospital in Delaware, her home state. Dental school has taught Allen the importance of building relationships with patients and she's eager to develop those skills as a professional. "I want patients to feel very comfortable with me. It's so important to sit and explain things to them and educate them so that they understand. Any kind of relationship is built on trust and, with patients the more they trust you, the more they will allow you to do for them.''