Holocaust Survivor Program Recognized
Rutgers School of Dental Medicine's (RSDM) Holocaust Survivor Program (HSP) has won the 2023 Chancellor Team Award for "exceptional contributions of a high-performing team to carry out work in at least one of the RBHS mission areas."
The HSP program was developed in partnership with the Jewish Federation of Greater MetroWest NJ and started in 2020 with a generous gift from Vice Chair and Professor of the Department of Periodontics Howard Drew '82, a son of Holocaust survivors, and his wife, Ina Drew. Among the many hardships Holocaust survivors endured, such as lack of food and medical care, left this population with a lifetime of medical problems, including concerns with their teeth and gums. At RSDM, survivors have been receiving comprehensive care at RSDM clinics for their various needs, ranging from root canals to extractions to dentures. To date, this program has treated 69 patients in a total of 747 patient visits.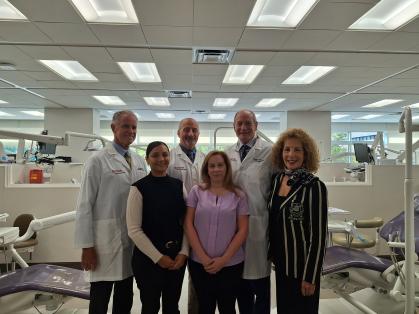 "This is a well-deserved team recognition and an exceptional example of caring for a very special community very much in need of our care," said Cecile A. Feldman in her recommendation letter to the Chancellor's Award Committee.
The HSP team includes Drew, Chief Operating Officer Andrea West, Senior Associate Dean for Clinical Affairs Michael Conte, Assistant Professor of Diagnostic Sciences John Moran, Dental Comprehensive Care Coordinator Carolina Vega, and Patient Representative Tayri Leon. "Dr. Drew calls the RSDM team 'The Dream Team,'" said Feldman, "and our patients are nothing short of delighted."
There will be a celebratory event on October 19, where the awardees will receive a recognition plaque and an honorarium.