RSDM Faculty Receives NJHF Grants
Two research projects by Rutgers School of Dental Medicine (RSDM) faculty have been awarded New Jersey Health Foundation (NJHF) grants. With the $35,000 award, Associate Professor of Oral Biology Daniel E. Kadouri will continue his work on predatory bacteria Bdellovibrio bacteriovorus, which he hopes can be an alternative treatment method when antibiotics fall short. The second project by Associate Professor of Oral Biology Chinnaswamy Kasinathan and Assistant Professor of Oral Biology Kabilan Velliya Gounder will examine if lactoferrin, a protein found in milk, can deter Alzheimer's progression. 
Infection Eating Bacteria 
Once upon a time, eye, wound, burn infections or periodontal diseases were easily treated by antibiotics. Yet, due to their mis- and overuse, microorganisms have been developing resistance to antibiotics.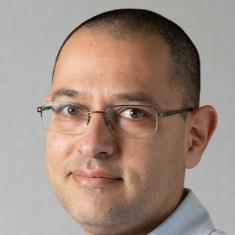 "People are actually now dying [from this]," said Associate Professor of Oral Biology Daniel E. Kadouri. "That's where the predatory bacteria come in; we're trying to see whether we can use these to fight infection."  
Kadouri has been studying the predatory bacteria Bdellovibrio bacteriovorus since he was a post-doc at Dartmouth College two decades ago. Back then, he was part of a team that first showed these bacteria can attack biofilms—plaques in the oral cavity. But it was long before he was a student that these fancy-named bacteria were discovered in the 60s. Then, scientists thought of using it for infections, but there was no such need thanks to antibiotics that took care of those. Antibiotic resistance pushed many to revisit this original idea.  
Bdellovibrio is found anywhere in nature. They're one of the fastest-moving organisms. Pound for pound, they're twice as fast as a cheetah; they can swim 100 times our body length and collide with particles that they feed on, like a torpedo, Kadouri explained.  
However, it behaves much more complexly than a torpedo, setting Kadouri on a multi-step research journey. His work most recently demonstrated that these bacteria can safely reduce infections in eyes and lungs.  
With this new grant, he wants to establish if Bdellovibrio can be combined with other therapeutics because infections are caused by multiple bacteria and need a cocktail of treatments. Once he tackles that, he plans to continue studying the biology of these bacteria to find where they can be used.  
Curbing Alzheimer's Disease 
The Alzheimer's Association estimates about 1 in 9 people over the age of 65 have Alzheimer's disease. Memory loss from this disease is caused by a protein called beta-amyloid that joins to form plaques in the brain. Researchers like Associate Professor of Oral Biology Chinnaswamy Kasinathan have been working on finding solutions to change the course of this disease. But inflammation is on the way.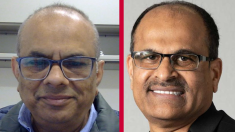 "You can take beta-amyloid away from the brain, but the symptom is a lot of inflammation, which is the main reason why drugs aren't working," he explained. 
A conversation with Assistant Professor of Oral Biology Kabilan Velliya Gounder sparked an idea. What if they used lactoferrin, a protein that is known for its anti-inflammatory nature, which Gounder has been studying in depth for the past 24 years  
Gounder's past research showed that lactoferrin plays a key role in regulating oral diseases as well as systemic diseases with its anti-inflammatory properties. Lactoferrin is secreted by milk, saliva, sweat, tears, and retinal fluid when there is inflammation, even if it's the brain—a quality making it especially relevant for Alzheimer's disease. 
 To test their hypothesis, the duo will induce Alzheimer's disease by injecting the beta-amyloid protein in lactoferrin deficient mice, and then they will give them human lactoferrin to see whether it has any effect in reducing the amyloid burden in the brain. 
"I think the research is going to say yes or no to lactoferrin," said Kasinathan. "If there's the relation, I think it's another avenue."