20 Years of Pain Gone in an Hour and 20 Minutes
A minute of excruciating pain feels like a lifetime. Imagine experiencing bolts of painful attacks for 20 years. This was Alberto Gracia's reality until he came to Rutgers School of Dental Medicine's (RSDM) Center for Temporomandibular Disorders and Orofacial Pain.  
"It was so so horrible," said Gracia, a 72-year-old pastor from Cuba, through Ana Baldizon, an oral medicine preceptorship at RSDM who became Gracia's translator.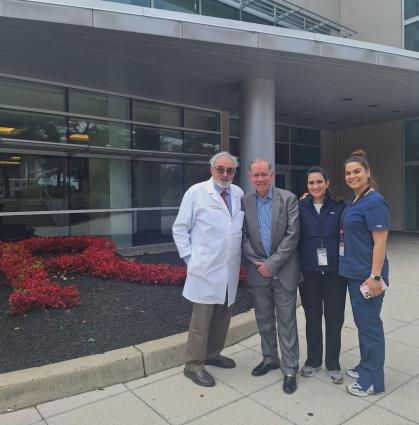 Gracia had trigeminal neuralgia. It's a condition where the trigeminal nerve—responsible for sensation to the face—is contacted by a blood vessel. This creates episodic electric-like shock pain that can be triggered by a light touch, eating, drinking, putting the head down on a pillow, or even breezy weather. Each episode can last from a few seconds to as long as 15 minutes. The debilitating pain, also referred to as tic douloureux or painful grimace, affects daily activities as well as speech. And half the time, trigeminal neuralgia is misdiagnosed, leading patients to unnecessary root canals, extractions, and even sinus surgeries. A correct diagnosis can take 10-12 years unless patients see a pain specialist.  
Gracia came to RSDM's Center for Temporomandibular Disorders and Orofacial Pain during one of his painful attacks. As soon as first-year orofacial pain resident Zahra "Sami" Sarabadani saw him, she suspected trigeminal neuralgia (TN). "It's really hard for us to diagnose and differentiate between TN and even a dentin sensitivity," she noted. But Gracia's clinical presentation was an eminent marker for the condition. Sarabadani personally took him for an MRI and pushed for a quick scan, confirming the diagnosis of a vascular contact of the trigeminal nerve.  
"It was like two pieces of pipe laying on each other at Home Depot," said Gary Heir '72, the Robert and Susan Carmel Chair in Algesiology and director of the Center for Temporomandibular Disorders and Orofacial Pain at RSDM. During their first interaction, Heir noticed how Gracia looked skinny, tired, and worn out from the pain. "A happy guy like this comes with tears coming down his face, holding his face, and he couldn't talk to us. He wrote notes in Spanish. That's how bad it was," he said. "The case is probably one of the worst cases of TN we've seen come to the clinic and was one of the best outcomes."   
The team first tried medication, but there were side effects, and it couldn't prevent the breakthrough of pain. Gracia required surgery. Heir promptly referred him to Stephen Johnson, a neurosurgeon, and director of facial pain and trigeminal neuralgia at Rutgers Robert Wood Johnson Medical School. The two have been collaborating on many cases, and for many years Johnson takes all orofacial students to the operating room to observe his surgeries.  
"What's special about this case it is that from diagnosis to surgery, Sami followed this patient from start to finish. … This is really unique," said Heir. "There're 15 orofacial pain programs in the U.S., and I think we're the only one where the orofacial pain students can observe neurosurgery." 
Within two weeks, Gracia was in Johnson's operating room.  
"Facial pain is something that we don't normally think about as something that can ruin lives," said Johnson and added, "Trigeminal neurology is sometimes called the suicide disease. It's incomprehensively severe pain." Oftentimes, surgery is curative. After an hour-and-20-minute operation, Gracia woke up pain-free.   
"Just to see the difference in his disposition, his smile after surgery, it's so reassuring and it's a reminder of why we do what we do," said Johnson. "Because it is life-changing surgery."  
It sure was. Since the operation, Gracia has been living without pain. He regained his weight along with happiness. "I'm simply always laughing now," he said. During Father's Day, his grandchildren noticed the change in him and commented on how he seemed younger and livelier.  
"Me happy. No more pain," said Gracia without a translator, now headed to Bolivia, his wife's home, for a trip he can finally enjoy. "I thank God for the excellent team here [at Rutgers]."