Narayanan Ramasubbu
Associate Dean for Research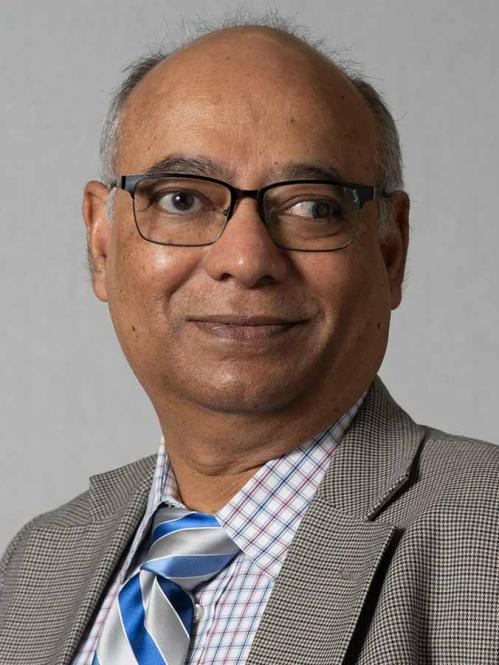 Bio
My research has centered on pathogenesis of oral diseases through structural biological and microbiological methodologies. Salivary a-amylase is a major enzyme present in salivary secretions and plays a critical role in the colonization of many viridians streptococci that are the primary colonizers on the tooth. Over the years, I have studied three-dimensional structures of salivary and bacterial proteins to delineate the structural domains responsible for their functions in the oral cavity such as enamel, bacterial as well as starch binding in the oral cavity. My research involves mutational studies, computer modeling, biochemical and molecular biological, and X-ray crystallographic analysis to understand disease pathogenesis. In the recent past, my research has focused on Aggregatibacter actinomycetemcomitans (Aa), which is associated with aggressive periodontitis. One of the major virulence factors that my research focuses on is the bacterium's exopolysaccharide, which is a novel carbohydrate polymer. Through a rat model of periodontitis, we have shown the roles played by the exopolysaccharide, and the enzymes and proteins involved in its synthesis and export. We showed that the polysaccharide is not only essential for the colonization of Aa, but it could potentially play a major role in mutualistic cooperation with the primary colonizers. This aspect is being studied through an NIH-funded project.
Education
BS, Madurai University, India
MS, Madurai University, India
PhD, Organic Chemestriy, Indian Institute of Science
Research Projects
Role of dispersin B enzyme produced by Aa in the mutualistic cooperation between Aa and S. gordonii
Molecular architecture of the exopolysaccharide export machinery in Aa
Publications
Velusamy SK, Sampathkumar V, Ramasubbu N, Paster BJ, Fine DH. Aggregatibacter actinomycetemcomitans colonization and persistence in a primate model. Proc Natl Acad Sci U S A. 2019;116(44):22307-13. Epub 2019/10/16. doi: 10.1073/pnas.1905238116. PubMed PMID: 31611409; PMCID: PMC6825321.
Cugini C, Shanmugam M, Landge N, Ramasubbu N. The Role of Exopolysaccharides in Oral Biofilms. J Dent Res. 2019;98(7):739-45. Epub 2019/04/23. doi: 10.1177/0022034519845001. PubMed PMID: 31009580; PMCID: PMC6589894.
Cugini C, Mei Y, Furgang D, George N, Ramasubbu N, Fine DH. Utilization of Variant and Fusion Proteins To Functionally Map the Aggregatibacter actinomycetemcomitans Trimeric Autotransporter Protein ApiA. Infect Immun. 2018;86(3). Epub 2017/12/13. doi: 10.1128/IAI.00697-17. PubMed PMID: 29229732; PMCID: PMC5820932.
Shanmugam M, Oyeniyi AO, Parthiban C, Gujjarlapudi SK, Pier GB, Ramasubbu N. Role of de-N-acetylase PgaB from Aggregatibacter actinomycetemcomitans in exopolysaccharide export in biofilm mode of growth. Mol Oral Microbiol. 2017;32(6):500-10. Epub 2017/05/27. doi: 10.1111/omi.12188. PubMed PMID: 28548373; PMCID: PMC6118124.
Parthiban C, Varudharasu D, Shanmugam M, Gopal P, Ragunath C, Thomas L, Nitz M, Ramasubbu N. Structural and functional analysis of de-N-acetylase PgaB from periodontopathogen Aggregatibacter actinomycetemcomitans. Mol Oral Microbiol. 2017;32(4):324-40. Epub 2016/10/06. doi: 10.1111/omi.12175. PubMed PMID: 27706922.
Granick MS, Paribathan C, Shanmugam M, Ramasubbu N. Direct-Contact Low-Frequency Ultrasound Clearance of Biofilm From Metallic Implant Materials. Eplasty. 2017;17:e13. Epub 2017/04/14. PubMed PMID: 28405263; PMCID: PMC5372756.
Granick M, Rubinsky L, Parthiban C, Shanmugam M, Ramasubbu N. Dispersion Risk Associated With Surgical Debridement Devices. Wounds. 2017;29(10):E88-E91. Epub 2017/11/02. doi: 10.25270/wnds/2017.10.e88e91. PubMed PMID: 29091044.
Ragunath C, DiFranco K, Shanmugam M, Gopal P, Vyas V, Fine DH, Cugini C, Ramasubbu N. Surface display of Aggregatibacter actinomycetemcomitans autotransporter Aae and dispersin B hybrid act as antibiofilm agents. Mol Oral Microbiol. 2016;31(4):329-39. Epub 2015/08/19. doi: 10.1111/omi.12126. PubMed PMID: 26280561; PMCID: PMC6118125.
May AC, Ehrlich RL, Balashov S, Ehrlich GD, Shanmugam M, Fine DH, Ramasubbu N, Mell JC, Cugini C. Complete Genome Sequence of Aggregatibacter actinomycetemcomitans Strain IDH781. Genome Announc. 2016;4(6). Epub 2016/11/12. doi: 10.1128/genomeA.01285-16. PubMed PMID: 27834722; PMCID: PMC5105115.
Shanmugam M, Gopal P, El Abbar F, Schreiner HC, Kaplan JB, Fine DH, Ramasubbu N. Role of exopolysaccharide in Aggregatibacter actinomycetemcomitans-induced bone resorption in a rat model for periodontal disease. PLoS One. 2015;10(2):e0117487. Epub 2015/02/24. doi: 10.1371/journal.pone.0117487. PubMed PMID: 25706999; PMCID: PMC4338281.
Shanmugam M, El Abbar F, Ramasubbu N. Transcriptome Profiling of Wild-Type and pga-Knockout Mutant Strains Reveal the Role of Exopolysaccharide in Aggregatibacteractinomycetemcomitans. PLoS One. 2015;10(7):e0134285. Epub 2015/07/30. doi: 10.1371/journal.pone.0134285. PubMed PMID: 26221956; PMCID: PMC4519337.
Sethi A, Mohanty B, Ramasubbu N, Gooley PR. Structure of amylase-binding protein A of Streptococcus gordonii: a potential receptor for human salivary alpha-amylase enzyme. Protein Sci. 2015;24(6):1013-8. Epub 2015/03/06. doi: 10.1002/pro.2671. PubMed PMID: 25739638; PMCID: PMC4456114.
Ragunath C, Manuel SG, Venkataraman V, Sait HB, Kasinathan C, Ramasubbu N. Probing the role of aromatic residues at the secondary saccharide-binding sites of human salivary alpha-amylase in substrate hydrolysis and bacterial binding. J Mol Biol. 2008;384(5):1232-48. Epub 2008/10/28. doi: 10.1016/j.jmb.2008.09.089. PubMed PMID: 18951906; PMCID: PMC2644404.
Kerrigan JE, Ragunath C, Kandra L, Gyemant G, Liptak A, Janossy L, Kaplan JB, Ramasubbu N. Modeling and biochemical analysis of the activity of antibiofilm agent Dispersin B. Acta Biol Hung. 2008;59(4):439-51. Epub 2009/01/13. doi: 10.1556/ABiol.59.2008.4.5. PubMed PMID: 19133500; PMCID: PMC6118122.
Manuel SG, Ragunath C, Sait HB, Izano EA, Kaplan JB, Ramasubbu N. Role of active-site residues of dispersin B, a biofilm-releasing beta-hexosaminidase from a periodontal pathogen, in substrate hydrolysis. FEBS J. 2007;274(22):5987-99. Epub 2007/10/24. doi: 10.1111/j.1742-4658.2007.06121.x. PubMed PMID: 17949435.