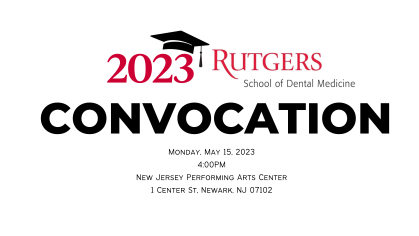 EVENT DETAILS
ATTENDANCE & LIVESTREAMING
RSDM's Convocation will take place in-person and the event will also be streamed live for those who will not be able to attend. The link for the live stream is here. The recording of the entire event will be available on the RSDM Youtube channel a few days after the event.
ARRIVAL TIME
Students and the platform party should be appropriately dressed before arriving at NJPAC no later than 2:00 PM (EDT).
ATTIRE
Students should dress in professional/interview attire and must bring their academic attire (cap, gown, hood, and tassel). For those of you inducted into OKU-The National Honor Society, please wear your OKU Medal (Key) and OKU Stole. Please do not bring backpacks, handbags, phones, or other valuables.
PHOTOGRAPHS
The Dental School has arranged for a photographer to take photos during the ceremony. Free digital downloads are available here to all students for a year from the date of the event. Please make sure to enter password rsdm23 to download photos. This will not include the cost of prints, which will be available for order from the gallery at an additional cost.
DIRECTIONS TO & PARKING AT THE VENUE
LIVESTREAM
Watch the event online here