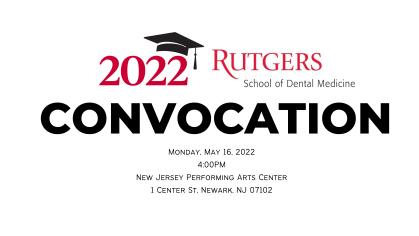 ATTENDANCE & LIVESTREAMING
RSDM's Convocation will take place in-person and the event will also be streamed live for those who will not be able to attend. Please watch the Convocation using this link. The recording of the entire event will be available on the RSDM Youtube channel a few days after the event.
ARRIVAL TIME
Students and the platform party should be appropriately dressed before arriving to NJPAC no later than 2:00PM (EDT).
ATTIRE
Students should dress in professional/interview attire and must bring their academic attire (cap, gown, hood and tassel). For those of you inducted into OKU-The National Honor Society, please wear your OKU Medal (Key) and OKU Stole. Please do not bring backpacks, handbags, phones, or other valuables.
PHOTOGRAPHS
Pease find the gallery of photos of the 2022 RSDM Convocation at the following link:
https://www.harvardstudio.com/gallery/Rutgers-School-of-Dental-Medicine-Convocation-5-16-22/G0000HbA0OG8qsaw
Password: rsdm22
Gallery photos are downloadable in hi-res by clicking the Select Photos button on the top right of the thumbnail gallery, revealing a Download button further to the right, or by clicking the download icon on the top of the individual photo pages.  
The free downloads of all an any photos will be available for a year. If you would like photos printable, that is a separate fee that you can order on the same website.
DIRECTIONS TO & PARKING AT THE VENUE
NJPAC Website & Directions & Parking
COVID PROTOCOLS
Please note that the event will be held in-person for all participants and guests. However, plans are subject to change at any time depending on state and university regulations regarding COVID safety protocols. Therefore, updated information will be sent out and communicated as policies and/or regulations change. Please note the current policies and regulations below. For further information and details, please visit NJPAC COVID Health and Safety.
As of 4/29/2022:
Masks are mandatory and must be worn at all times.
Proof of vaccination will not be required
Proof of negative COVID test will not be required.