Carla Cugini
Assistant Professor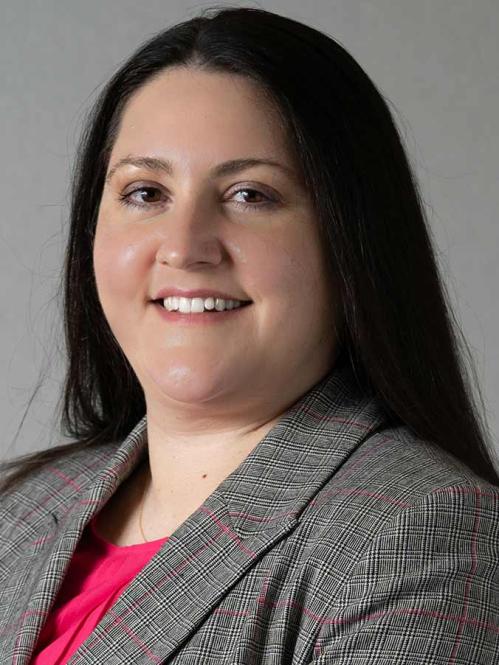 Bio
My long-term career goal is to understand the molecular mechanisms that govern interspecies interactions within complex microbial communities as they relate to human health and disease. In periodontal diseases, there is a shift in the composition of the bacterial community of plaque (a natural biofilm), with marked outgrowth of several key pathobionts that are common residents in the healthy oral cavity. Drawing from and melding my experiences in the field of molecular microbiology, the broad focus of my laboratory is to understand the molecular mechanisms that govern the in vivo inter-and intra-species interactions of these key pathobionts within plaque biofilm and how they ultimately impact the host response. The Gram-negative anaerobic pathobionts associated with periodontitis are the primary focus of her studies in understanding the molecular mechanisms of community biofilm development and pathogenesis, namely Porphyromonas gingivalis, Fusobacterium nucleatum, Prevotella intermedia, and Aggregatibacter actinomycetemcomitans. Using a combination of basic microbiological techniques (phenotypic analyses; biofilm formation; microscopy), molecular biology (plasmid construction), genetics (whole genome mutagenesis; targeted gene deletions; real time RT-PCR; RNASeq; microarrays), and biochemistry (2D gel analysis; proteomics; protein detection) I seek to identify the mechanisms by which these key pathobionts interact and maintain themselves in the plaque community.
Education
BS, General Biology, University of New Hampshire
PhD, Microbiology, Dartmouth College
Publications
Cugini C, Shanmugam M, Landge N, Ramasubbu N. The Role of Exopolysaccharides in Oral Biofilms. J Dent Res. 2019 Jul;98(7):739-745. doi: 10.1177/0022034519845001. Epub 2019 Apr 22. Review. PubMed PMID: 31009580; PubMed Central PMCID: PMC6589894.
Cugini C, Mei Y, Furgang D, George N, Ramasubbu N, Fine DH. Utilization of Variant and Fusion Proteins To Functionally Map the Aggregatibacter actinomycetemcomitans Trimeric Autotransporter Protein ApiA. Infect Immun. 2018 Mar;86(3). doi: 10.1128/IAI.00697-17. Print 2018 Mar. PubMed PMID: 29229732; PubMed Central PMCID: PMC5820932.
May AC, Ohta H, Maeda H, Kokeguchi S, Cugini C. Draft Genome Sequences of Aggregatibacter actinomycetemcomitans Strains 310a and 310b.Genome Announc. 2017 Nov 22;5(47). doi: 10.1128/genomeA.01282-17. PubMed PMID: 29167243; PubMed Central PMCID: PMC5701468.
May AC, Ehrlich RL, Balashov S, Ehrlich GD, Shanmugam M, Fine DH, Ramasubbu N, Mell JC, Cugini C. Complete Genome Sequence of Aggregatibacter actinomycetemcomitans Strain IDH781. Genome Announc. 2016 Nov 10;4(6). doi: 10.1128/genomeA.01285-16. PubMed PMID: 27834722; PubMed Central PMCID: PMC5105115.
Ragunath C, DiFranco K, Shanmugam M, Gopal P, Vyas V, Fine DH, Cugini C, Ramasubbu N. Surface display of Aggregatibacter actinomycetemcomitans autotransporter Aae and dispersin B hybrid act as antibiofilm agents. Mol Oral Microbiol. 2016 Aug;31(4):329-39. doi: 10.1111/omi.12126. Epub 2015 Sep 22. PubMed PMID: 26280561; PubMed Central PMCID: PMC6118125.
Al-Gburi A, Volski A, Cugini C, Walsh EM, Chistyakov V, Mazanko MS, Bren AB, Chikindas ML. Safety Properties and Probiotic Potential of Bacillus subtilis KATMIRA1933 and Bacillus amyloliquefaciens B-1895. Advances in microbiology. 2016; 6:432-452. doi: 10.4236/aim.2016.66043.
Cugini C, Klepac-Ceraj V, Rackaityte E, Riggs JE, Davey ME. Porphyromonas gingivalis: keeping the pathos out of the biont. J Oral Microbiol.2013;5. doi: 10.3402/jom.v5i0.19804. Epub 2013 Apr 3. PubMed PMID: 23565326; PubMed Central PMCID: PMC3617648.
Cugini C, Stephens DN, Nguyen D, Kantarci A, Davey ME. Arginine deiminase inhibits Porphyromonas gingivalis surface attachment. Microbiology (Reading). 2013 Feb;159(Pt 2):275-285. doi: 10.1099/mic.0.062695-0. Epub 2012 Dec 14. PubMed PMID: 23242802; PubMed Central PMCID: PMC3709564.
Priyadarshini R, Cugini C, Arndt A, Chen T, Tjokro NO, Goodman SD, Davey ME. The nucleoid-associated protein HUβ affects global gene expression in Porphyromonas gingivalis. Microbiology (Reading). 2013 Feb;159(Pt 2):219-229. doi: 10.1099/mic.0.061002-0. Epub 2012 Nov 22. PubMed PMID: 23175503; PubMed Central PMCID: PMC3709559.
Alberti-Segui C, Arndt A, Cugini C, Priyadarshini R, Davey ME. HU protein affects transcription of surface polysaccharide synthesis genes in Porphyromonas gingivalis. J Bacteriol. 2010 Dec;192(23):6217-29. doi: 10.1128/JB.00106-10. Epub 2010 Oct 1. PubMed PMID: 20889748; PubMed Central PMCID: PMC2981211.
Christopher AB, Arndt A, Cugini C, Davey ME. A streptococcal effector protein that inhibits Porphyromonas gingivalis biofilm development.Microbiology (Reading). 2010 Nov;156(Pt 11):3469-3477. doi: 10.1099/mic.0.042671-0. Epub 2010 Aug 12. PubMed PMID: 20705665; PubMed Central PMCID: PMC7336479.
Cugini C, Morales DK, Hogan DA. Candida albicans-produced farnesol stimulates Pseudomonas quinolone signal production in LasR-defective Pseudomonas aeruginosa strains. Microbiology (Reading). 2010 Oct;156(Pt 10):3096-3107. doi: 10.1099/mic.0.037911-0. Epub 2010 Jul 23. PubMed PMID: 20656785; PubMed Central PMCID: PMC3068698.