Ear infections are common in babies. But in Nimat Ganiyu's case, the results of it were quite uncommon.
Ganiyu was born in Nigeria and had an ear infection as a baby. Left untreated, it spread to the little girl's jaw, eroded her bone, and caused her face to asymmetrically develop. Needing special surgery, she got referred to the Chair of Oral and Maxillofacial Surgery Vincent Ziccardi at Rutgers Health University Dental Associates in Newark.
The two met eight years ago, and Ziccardi has performed multiple surgeries to restore Ganiyu's jaw.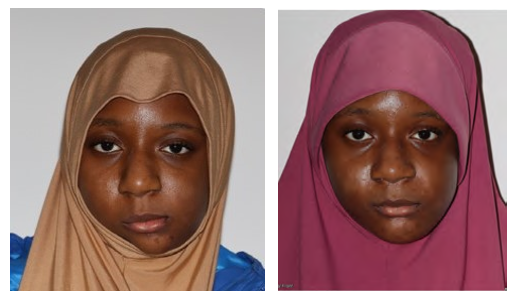 Nimat Ganiyu before and after the surgery.
"Before I used to be bullied because of my face, now I feel beautiful," said Ganiyu, a soft-spoken 12 years old, living in Newark. "I feel I can open my jaw better. My teeth are on top of each other straight—not like before."
When Ganiyu first arrived, Ziccardi recalled that she had no oral opening due to stiffness of her joint, or, what he called, ankylosis. "This case is unique based on the severity of her deformity," he noted. And before he could operate on the jaw, he needed support from the Orthodontics Department.
Clinical Assistant Professor of Orthodontics Robert Montemurno and his resident, Brennan Feldman '24, used braces to relocate each of Ganiyu's teeth as ideally as possible so "when the surgeons went in and did their magic bringing the jaws into proper position, the teeth were much closer to where they needed to be," explained Montemurno.
In the first operation, Ziccardi released Ganiyu's joint and replaced her condyle with a rib graft. "The patient initially had a good oral opening but was not compliant with physical therapy resulting in a decreased opening over time," Ziccardi said. Also, the rib graft couldn't accommodate her growth, and she again developed facial asymmetry on the left side.
"Over time, the deformity became significant enough that she was bullied at school," said Ziccardi, "so a decision was made to proceed with [a second] surgery to correct the skeletal deformity."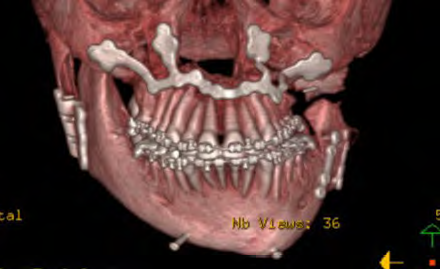 Dr. Ziccardi applied custom fixation plates and screws to realign Ganiyu's jaw. The screws in her chin stabilize the alloplastic implant that's not visible on the CT scan.
The major reconstructive surgery also widened her oral opening. Ganiyu underwent intensive physical therapy following the operation. And all of these yielded a successful outcome.
"Now, her face is 95 percent better than when we first came in," said Ganiyu's mother Fatimoh Dolapo, who used to blame herself for her daughter's condition. "When I see the surgery went well, I feel relaxed. I blame myself no more. Because the treatment really makes me comfortable, and I see her face is better than before."
She also feels at ease because of Ziccardi's approach to his patients. "Even though he is our doctor, he treats us as a family … He explains everything … and we really understood the surgery. … This made the process easier for us."
After Ganiyu is fully grown, she might need another surgery. But the eighth-grader reminded everyone: "You're beautiful no matter what." Like Ziccardi, she aspires to be a doctor. "I have my mind set on being a doctor," said Ganiyu, "I really love helping people and seeing people smile."