RSDM's State-of-the-Art Dentistry Center Dedicated to Benefactor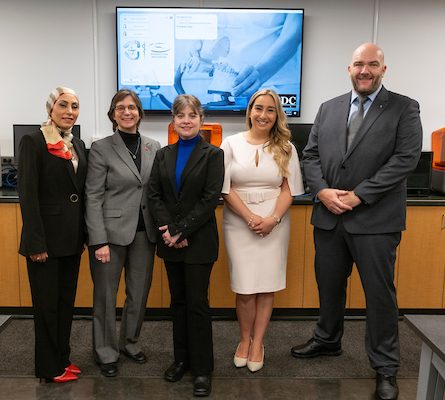 Rutgers School of Dental Medicine last month officially opened the Georges E. Sara Digital Dentistry Center, honoring the memory of an entrepreneur whose generosity accelerated its creation.
Sara donated $1.3 million in equipment and software through his Australia-based company, Stoneglass Industries, beginning in 2017. He died of COVID-19 complications in November 2020.
"Rutgers School of Dental Medicine has come a long way in introducing digital dentistry to the curriculum; our collaboration with Stoneglass had a major role in this," Dr. Heba Elkassaby, director of digital dentistry at RSDM, said at the April 5 ceremony. 
With 48 stations, three 3-D printers and three laboratory scanners, the center is helping to advance dentistry, making the process of dental restoration easier and quicker for patients, Elkassaby said.
Sara's Prosthetic Design Center became part of RSDM's curriculum in the fall of 2020. Predoctoral and postdoctoral students can make complete trial dentures digitally, while postdoctoral students can also make implant-supported fixed prostheses.
"Digital dentistry provides higher accuracy and better efficiency in fabricating dental restorations," Elkassaby said. Ultimately, the center will allow for "digital planning of surgical implant placement with in-house printing of fully guided surgical guides."
Sara connected with RSDM through Periodontics Professor Howard Drew's son, Alex. The younger Drew served as chief resident of Columbia University dental school's department of prosthodontics. "Alex described Georges' commitment to the residents and how cases from Australia were returned much quicker and more accurate than from local labs," the elder Drew said.
Sara's daughter, Jessica Mitri said: "It was the leaders in Rutgers who believed in Georges and what Prosthetic Design Center could achieve not only in education but practice and patient care solutions that led to what is now up and running." Mitri, who serves on the leadership team of Stoneglass Industries, said she is honored her father's memory has been memorialized at RSDM.
"Our family is very humble, honored, and proud to have his life's dedication acknowledged in such a large way," she said. "He was a larger-than-life type of person so it kind of ties it all up very well." Spending time at Rutgers in recent years, Mitri said, "I was able to feel the feeling my father got when he decided to input all the effort with Rutgers Dental School and his 'why.'"
Elkassaby said Sara "will continue to change the lives of many more: lives of students, lives of dentists, lives of lab technicians, and lives of patients."
###