RSDM's Multifaceted Research Goes Beyond Dental Disease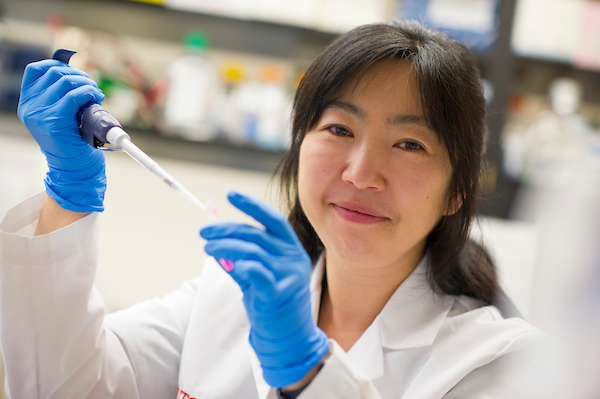 Dr. Emi Shimizu researches the use of stem cells to regenerate dental pulp.
Research at RSDM ranges from exploring links between dental caries and dementia to therapies for cancer, autoimmune diseases and the causes and treatments of chronic pain.
Dean Cecile A. Feldman is the principal investigator of an $11.7 million grant from the National Institutes of Health, (NIH) for research on the combination of ibuprofen and acetaminophen as an alternative to opioids.
Among our faculty, major research is being conducted in our Department of Oral Biology, which works with about 20 graduate students a year. In the fall of 2018, RSDM opened new laboratory spaces, totaling 25,000 square feet, include an expansion of the Center for Oral Biology, where researchers are working on treatments for cancer, systemic illnesses and drug-resistant pathogens, in addition to oral health diseases. RSDM researchers are also collaborating with Rutgers colleagues on COVID-19 testing, treatment and methods of curbing transmission.
Department faculty have received several multimillion-dollar federal grants, along with private investment and industrial funds. Dr. Scott Kachlany has been working on a therapy for cancer and other autoimmune diseases, with help from more than $1 million from the (NIH) and other organizations. Dr. Daniel Kadouri's research for the U.S. military explores the disease-fighting potential of predatory bacteria—microbes that devour germs immune to antibiotics. Findings could help halt the epidemic of drug-resistant bacteria that has led to a rise in untreatable illnesses.
Other major research at RSDM involves using stem cells to replace decayed dental pulp, the link between HIV-Infection and dental caries among children in Africa, and research on the causes and treatment of chronic pain.