No More Fears: Scholarship Recipient Shares Tips on Putting Patients At Ease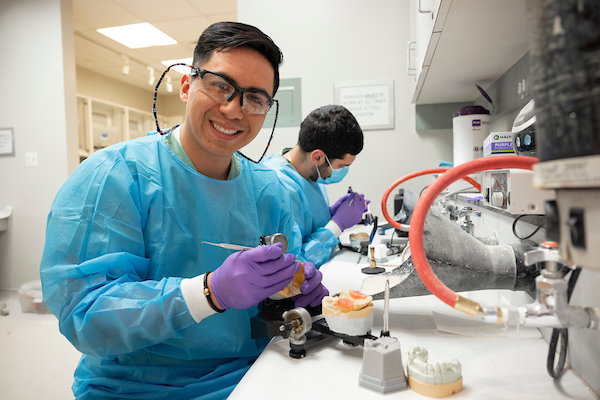 Jonathan Matute
In 2018, 61 students received scholarships from 38 donors. This year, RSDM kicked off the year-long Chancellor's Challenge, which offers matching funds for all donors. Gifts benefit students like Jonathan Matute, who was awarded the Professionalism Scholarship last year. The scholarship is funded by Alumni and Friends of RSDM. We recently sat down with Jonathan for a Q&A.
Why did you want to become a dentist?
 Because I hated dentists. I had a really bad experience when I was young. Too many extractions. It created a fear and I wanted to help take that fear away.
What's the key to putting a patient at ease?
Don't allow the patient to see any needles. I tell them to look straight ahead, away from what I'm doing.  Especially when working with kids, never stop speaking. I always describe what I'm doing, and that helps them feel better.
Tell us about your dental mission to the Dominican Republic, where RSDM volunteers treated school children?
 I worked on a 17-year-old who broke his front tooth when he was younger. He said, "Can you please fix this? I'm about to graduate. This is the last chance I have to see a dentist.'' I reconstructed the tooth and he started tearing up, he was so happy. That's one of the pleasures of what we do. It might seem minor but it has such an impact.
What does your scholarship mean to you?
Dental school is not cheap. This helps a lot. And it's  encouraged me to think about giving back. That's my philosophy – always be willing to help somebody.