Daniel Kadouri
Associate Professor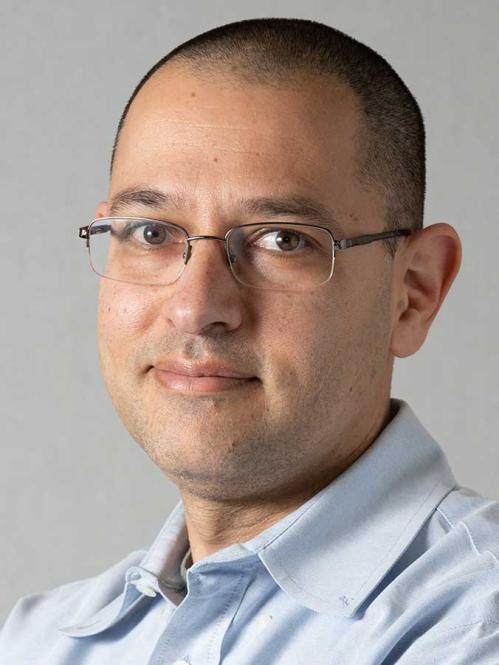 Bio
My lab focuses on the interaction of biofilms and predatory prokaryotes. Most bacteria found in natural or industrial settings persist in complex microbial communities attached to surfaces or associated with interfaces (biofilms). Recently, there has been a renewed interest in the use of biological control agents against biofilms. In my lab, we are using bacteria from the genera Bdellovibrio and Micavibrio to reduce biofilms with the long term goal of harnessing the potential of these organisms in controlling biofilms both in medical and industrial settings, developing novel biological control strategies, and employing these biological systems as a means of enhancing classical biofilm control techniques. We are currently developing new methods that will allow us to understand the biology of Micavibrio spp. and Bdellovibrio spp. and identify mechanisms that are involved in predator-prey interactions. In another study, we are focusing on isolating novel antimicrobial and biofilm degrading compounds from bacteria and biofilms
Education
BS, Biology and Agriculture, Hebrew University, Jerusalem
MS, virology, Hebrew University, Jerusalem
PhD, Hebrew University, Jerusalem
Research Projects
Predatory bacteria:

Understanding the biology of Micavibrio spp. and Bdellovibrio spp. using genetic and biochemical approaches.
Identifying mechanisms involved in predator-prey interactions and studying their association with surface-attached bacteria.
Understanding the role of biofilms in Bdellovibrio biology.
Investigating the "crosstalk" between the predator and its microbial prey.
Using predatory prokaryotes to control drug-resistant bacteria and microbial biofilms associated with infections.
Enhancing predatory bacteria ability to reduce biofilms and drug-resistant bacteria.
Examining the safety and efficacy of using predator bacteria as a live antibiotic.
Isolating novel antimicrobial compounds from Bdellovibrio spp and Micavibrio spp.

Isolating novel antimicrobial and biofilm degrading compounds from bacteria and biofilms.
Use of microbial-derived compounds for postoperative pain relief.
Biofilm formation and cell-to-cell association of oral pathogens.
Publications
Sathyamoorthy R, Kushmaro Y, Rotem O, Matan O, Kadouri DE, Huppert A, Jurkevitch E. 2021. To hunt or to rest: prey depletion induces a novel starvation survival strategy in bacterial predators. ISME J 15:109-123.
Thompson AF, English EL, Nock AM, Willsey GG, Eckstrom K, Cairns B, Bavelock M, Tighe SW, Foote A, Shulman H, Pericleous A, Gupta S, Kadouri DE, Wargo MJ. 2020. Characterizing species interactions that contribute to biofilm formation in a multispecies model of a potable water bacterial community. Microbiology 166:34-43.
Sathyamoorthy R, Maoz A, Pasternak Z, Im H, Huppert A, Kadouri DE, Jurkevitch E. 2019. Bacterial predation under changing viscosities. Environ Microbiol 21:2997-3010.
Khan J, Puchimada B, Kadouri DE, Zusman T, Javed F, Eliav E. 2019. The anti-nociceptive effects of Porphyromonas gingivalis lipopolysaccharide. Arch Oral Biol 102:193-198.
Duncan MC, Gillette RK, Maglasang MA, Corn EA, Tai AK, Lazinski DW, Shanks RMQ, Kadouri DE, Camilli A. 2019. High-Throughput Analysis of Gene Function in the Bacterial Predator Bdellovibrio bacteriovorus. mBio 10.
Russo R, Kolesnikova I, Kim T, Gupta S, Pericleous A, Kadouri DE, Connell ND. 2018. Susceptibility of Virulent Yersinia pestis Bacteria to Predator Bacteria in the Lungs of Mice. Microorganisms 7.
Gupta S, Lemenze A, Donnelly RJ, Connell ND, Kadouri DE. 2018. Keeping it together: absence of genetic variation and DNA incorporation by the predatory bacteria Micavibrio aeruginosavorus and Bdellovibrio bacteriovorus during predation. Res Microbiol 169:237-243.
Garcia CJ, Pericleous A, Elsayed M, Tran M, Gupta S, Callaghan JD, Stella NA, Franks JM, Thibodeau PH, Shanks RMQ, Kadouri DE. 2018. Serralysin family metalloproteases protects Serratia marcescens from predation by the predatory bacteria Micavibrio aeruginosavorus. Sci Rep 8:14025.
Duncan MC, Forbes JC, Nguyen Y, Shull LM, Gillette RK, Lazinski DW, Ali A, Shanks RMQ, Kadouri DE, Camilli A. 2018. Vibrio cholerae motility exerts drag force to impede attack by the bacterial predator Bdellovibrio bacteriovorus. Nat Commun 9:4757.
Dharani S, Kim DH, Shanks RMQ, Doi Y, Kadouri DE. 2018. Susceptibility of colistin-resistant pathogens to predatory bacteria. Res Microbiol 169:52-55.
Shatzkes K, Tang C, Singleton E, Shukla S, Zuena M, Gupta S, Dharani S, Rinaggio J, Connell ND, Kadouri DE. 2017. Effect of predatory bacteria on the gut bacterial microbiota in rats. Sci Rep 7:43483.
Shatzkes K, Singleton E, Tang C, Zuena M, Shukla S, Gupta S, Dharani S, Rinaggio J, Kadouri DE, Connell ND. 2017. Examining the efficacy of intravenous administration of predatory bacteria in rats. Sci Rep 7:1864.
Shatzkes K, Connell ND, Kadouri DE. 2017. Predatory bacteria: a new therapeutic approach for a post-antibiotic era. Future Microbiol 12:469-472.
Dattner I, Miller E, Petrenko M, Kadouri DE, Jurkevitch E, Huppert A. 2017. Modelling and parameter inference of predator-prey dynamics in heterogeneous environments using the o bacteriovorus and Micavibrio aeruginosavorus in a mouse model. Sci Rep 5:12899.
For more publication please see PubMed.