Anil Ardeshna
Associate Professor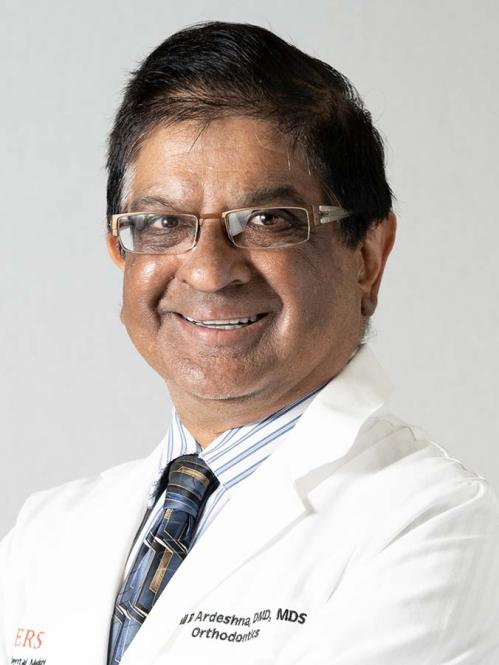 Bio
My research focus is on cephalometrics, diagnostic and treatment measurements and analysis.
Laboratory projects test different types of material using a wide variety of instruments such as Instron machine, Differential Scanning Calorimeter, Dynamic Mechanical Analyzer, Scanning microscope etc.
Education
BDS, University of Wales
DMD, University of Connecticut
MS, University of Connecticut
Certificate in Orthodontics, University of Connecticut
Research Projects
Investigation of skeletal and dentoalveolar growth and treatment changes in different types of malocclusion using cephalometric analysis.
Dimensional Changes in Extraction Treatment with Conventional Fixed Appliances.
An evaluation of palatal volume changes as a result of orthodontic treatment in extraction versus non extraction treatment.
Determine the microbial growth and effect of disinfectants on orthodontic materials.
An evaluation of the efficacy of a fluoride releasing light cured resin sealant to resist white spot lesion formation: an In Vitro Study
Microflora Diversity and Profiles in Dental Plaque Biofilms on Aligners and Tooth Surfaces of Patients.
Thermal Behavior of Commercially Available Nickel Titanium Archwires.
Characterization of Clear Aligner Materials Studied Using Differential scanning calorimetry (DSC)
Thermal and Mechanical Analysis of Polymers used for Aligner Materials
Interactive Effects of Stress and Temperature on the Deformation Profile of Orthodontic Elastomers.
Publications
Velliyagounder K, Ardeshna AP, Koo J, Rhee M, Fine DH. The Microflora Diversity and Profiles in Dental Plaque Biofilms on Brackets and Tooth Surfaces of Orthodontic Patients. J Indian Orthod Soc 2019;53(3):183-188.
Ardeshna AP, Bogdan F, Jiang S. Class II correction in orthodontic patients utilizing the Mandibular Anterior Repositioning Appliance (MARA). Angle Orthodontist 2019;89:404-410.
Fixed retention in Orthodontics. Decisions in Dentistry. June 2019.
Ardeshna AP, Hendler TJ, Jiang SS. The Effect of Rewards on Orthodontic Patient Compliance. J Indian Orthod Soc 2018;52(3):198-203.
Ardeshna AP, Bellan R. The Effect of Repeated Fluoride Foam Applications on Demineralization Observed in Orthodontic Patients. Acta Scientific Dental Sciences 2018;2(7):30-35.